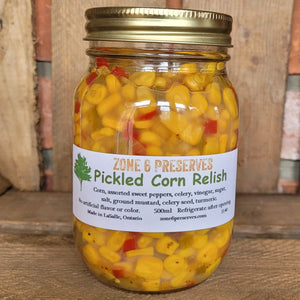 Our most popular relish. You'll want to eat it right out of the jar. Sweet and tangy corn kernels, sweet peppers, onions, and celery make this relish a perfect condiment to use on hamburgers or sausages, sandwiches, fish, or served with chicken.
For something different, drain, add tomatoes and chopped avocado to use as a chip dip.
Zone 6 Tip: Sprinkle corn relish on tacos or use in a cheese omlet. 
Drain, add tomatoes and cucumbers with a little olive oil to enjoy as a summer salad.
500ml.