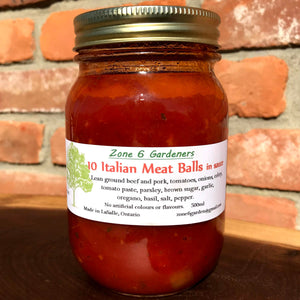 We use lean ground beef and pork (50/50) and fresh spices from our garden to make our Italian Meatballs. A great addition to your pantry for last minute meals.

Pour the meatballs into a saucepan to heat, add a jar of our pasta sauce, and have enough meatballs and sauce for a pasta dinner for 4.
Zone 6 Tip: Use to make a meatball sub.
Our meatballs are pressure canned for food safety, so you can store in the cupboard until opened. 500ml.