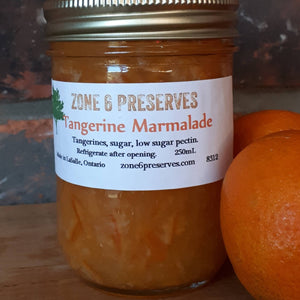 Made with whole fresh tangerines. What a treat! Just like biting into fresh fruit. 
Not only is this marmalade great on toast or cheese and crackers, it can be used to kick up any savory dish especially pork, ham, or chicken. Brush spoonfuls on top of meat to create a glaze.
Or, add some British flair to your morning routine by spreading this marmalade on a buttermilk scone. 250ml.