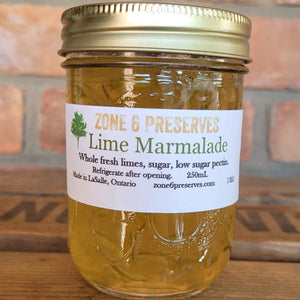 Made with fresh, whole limes with the skins and no artificial flavour or colour. We do not add water to the lime juice, resulting in a blast of real citrus flavour for your taste buds.
Can be used on breads, cheeses, or as a glaze on meats or fish. Add a spoonful to tea or hot water, use as a filling for baked goods, or add to yogurt or ice cream.
Great addition to a cheese board, or try with cream cheese and crackers.
250ml.